Me (left) and Lina (right).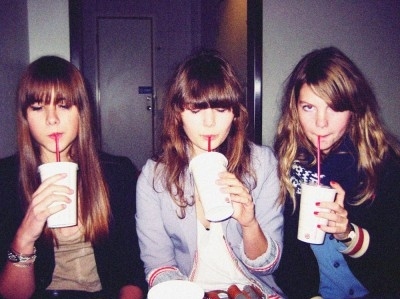 Aaaaa, I don't know how should I start this post! It was just awhile ago when I posted about my loneliness, but here I am now, holding my warm coffee from Starbucks which others bought for me! :') Yes, Lucas, Michelle, Imogen, Sean, Helena, Breanne, Tom, Jake, Jason, and Fielding are here!!! Can you believe it?? I can't! Now I'm in tears of joy.... :*
Okay, mind the drama part above :D But really, I didn't expect them to come but in seconds. At first when I was daydreaming on my bed, listening to Usher - DJ Got Us Fallin' In Love, someone just knocked at the door and I thought it was Judy (she's our new Canadian housemaid). But damn.... I saw Lucas' cute face LOL! He brought the others complete with the photography stuffs. Yes, we were going to finished our project which is due tomorrow. Okay so just say that they were just picking me up becayse I'm one of the team. But whatsoever, today was such a fairytale! And look what we did!
What can I say? They truly are my bestfriends :) Thank you so much for the whole photography setting, I wish I could bring you guys back home in Greece. Oh and, those photos were taken by me, Lucas, Lina, Katrina, and Michaela. Too bad that they don't have any social networks. I hope with this, they can take the appropriate credit.
PS: Photo of the last one is my favourite. It was candid actually. Lucas was such a model :*
Much love, Sera